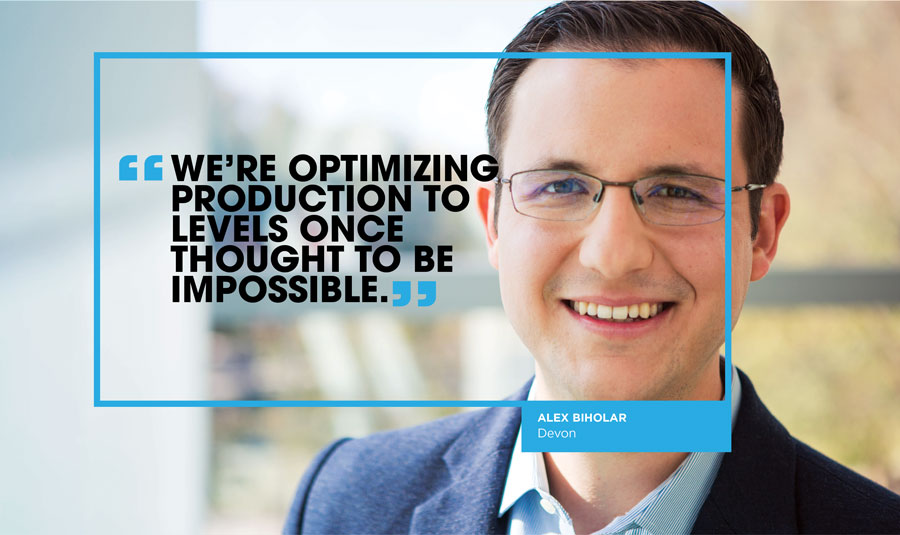 Data and technology help Devon Energy's Alex Biholar pinpoint America's energy treasures.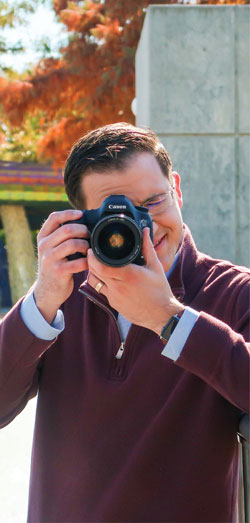 Alex Biholar loves getting lost in the granite cliffs and natural springs found among Oklahoma's thousands of acres of parks and wildlife refuges. Lugging his camera and tripod, he hikes for miles on any given weekend, capturing picturesque landscapes and closeups of granite-capped prominences that are more than 500 million years old.
The petroleum geophysicist for Devon Energy loves rocks and their history. He says that when you look at rock formations, you're looking at time – time and also the energy riches that those formations create and hold: natural gas and oil. His work is a continuous quest for new discovery, capitalizing on technologies and analysis of massive amounts of data to reveal the earth's otherwise hidden secrets.
"We're optimizing production to levels once thought to be impossible," Alex says. "As we continue to leverage new technologies that tell us even more about the earth's subsurface, the opportunities within petroleum geophysics will continue to grow."
Alex is a part of America's Generation Energy: a modern-day treasure hunter whose discoveries help build American energy leadership, economic growth and the consumer benefits yielded by natural gas and oil and the countless products made from them.
Like other industry geoscientists, Alex uses "big data" analysis, high-tech computing and other technologies to develop a clear picture of the earth's interior. Seismic surveys are vital in locating potential natural gas and oil reservoirs. Though seismic research has been around for decades, innovations in the technology have taken survey results from a 2-D "picture," merely identifying the existence of underground deposits, to today's detailed, 3-D seismic images that greatly reduce the possibility of drilling dry holes.
During the survey process, when sound waves sent into the ground hit rock, they bounce back to the surface and are recorded by multiple nearby geophones. The recordings are uploaded onto super computers and integrated with other acquired data. Combined, these create 3-D images that illustrate the underground layers, thousands of feet below the earth's surface.
From his office in Oklahoma City, Alex reviews the collected field data to understand the depths and orientations of rock formations and determine the sweet spot for exploration and production. These advancements provide companies with greater certainty in exploration, help to maximize production, reduce costs to consumers and minimize the industry's footprint.
"We analyze and interpret immense amounts of data, terabytes each day, to build our own treasure maps and essentially see through the rocks," Alex says. "And thanks to the integration of advanced technologies, we do this with amazing precision."
Everyone has seen photographs of "gushers" that signified striking oil back in the industry's early days. Today, science and technology point to natural gas and oil miles underground. The exhilaration is the same once the reservoir is confirmed, he says.
"These projects become your baby. You work tirelessly to identify the best locations to drill. And as they produce and even break records in production as we recently did in southeastern New Mexico, the feeling is indescribable. It's beyond rewarding to know that we're a part of the work that's powering the world."
While in-depth analysis from experts is critical to selecting the right drilling location, today's highly digitized industry is collecting and synthesizing natural gas and oil data on an unprecedented level. Progress in data analytics is accelerating. And the use of seismic techniques doesn't stop at the prospecting stage. Today, 4-D seismic data, which is made by overlaying the 3-D readings of a single location over time, shows the patterns of movement for subsurface natural gas and oil. These views enable companies to plan future operations.
Alex notes that while high-tech supercomputing has significantly enhanced all aspects of the industry, the physical exploration of the natural world is just as important. Hence, the satisfaction he gets from those weekend hikes.
"Modeling is an approximation of reality. Some of the best geoscientists are those who've seen the most rocks, those who constantly yearn for a deeper and wider understanding of the subsurface."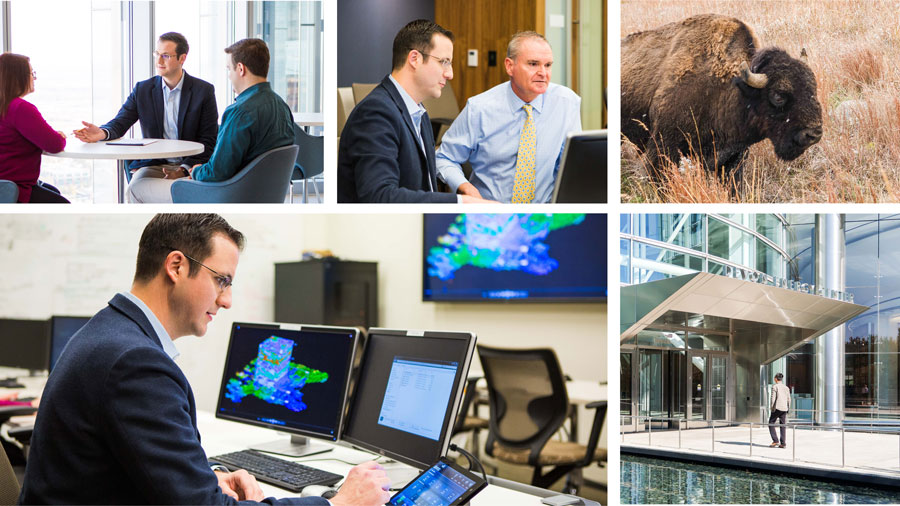 "To understand rocks and depositional systems and what they're capable of, you have to experience them in their natural habitat. It's pattern recognition. That's how you maximize predictive analytics."
Natural gas and oil companies are ranked among the largest employers of geophysicists. For Alex and his colleagues across the industry, the work is about safely uncovering resources for today and tomorrow, ensuring that the hunt for natural gas and oil is precise, production is optimized and the environmental impact of operations is minimized.
"That's treasure hunting at its best."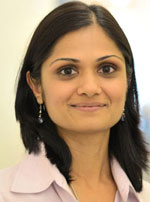 FOCUS ON WELL PRECISION
Halliburton's Shobhana Mani is the company's director for technology, drill bits and services, and was part of the company rollout of Cerebro in-bit sensor technology that sends data directly from an operating drill bit and analyzes it to optimize performance and efficiency.
The technology captures downhole vibration and motion data – including lateral and axial vibration, torsion resistance and other factors – that can affect drilling speed and efficiency. The information helps operators pinpoint where bit damage occurred and when optimal performance is not achieved due to inconsistent design or operating parameters.
"For the first time we have a look at what's happening downhole," Shobhana says. "It is extremely exciting to see what the potential of that data is, and it really helps us imagine the drill bit in ways that we never did before."
"To me, as a technology person, it's extremely exciting, and it opens up a world of possibilities."
- Shobhana Mani, Halliburton
On a recent set of runs, Cerebro acquired information that allowed the operator to utilize a more assertive cutting structure to increase drilling efficiency and reduce well time. This data also showed that higher drilling speeds could be used in softer sections of the well without vibration limitations. "To me, as a technology person, it's extremely exciting," she says, "and it opens up a world of possibilities."
---
America's Generation Energy
---