Living the Safety Culture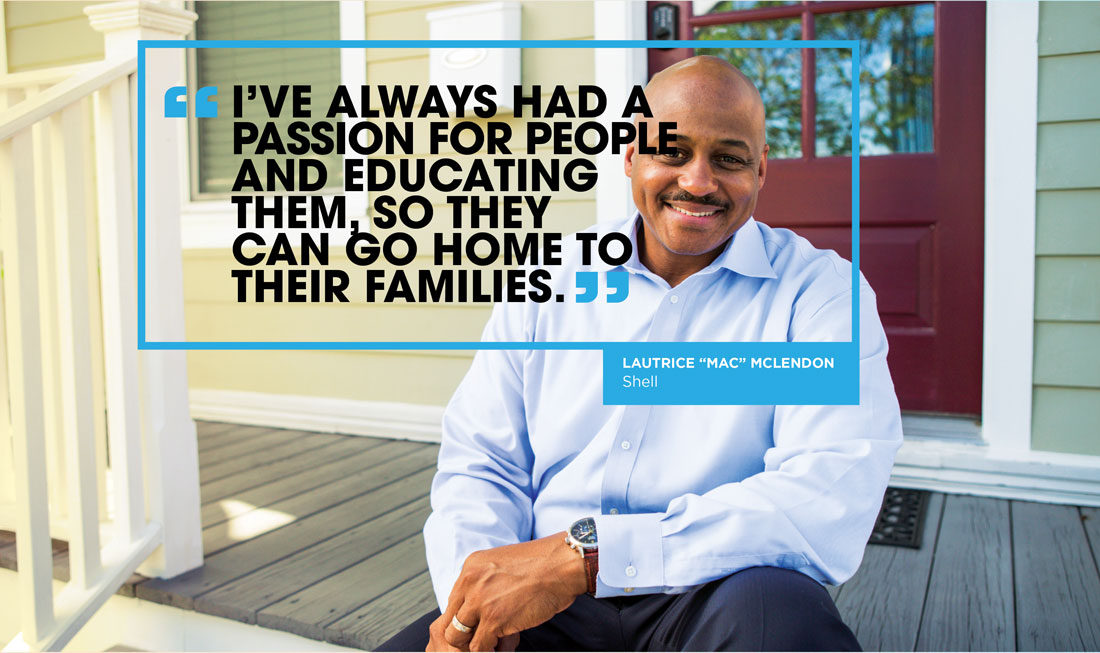 Shell's 'Mac' McLendon Brings His Own Energy to Protecting Offshore Workers and the Environment.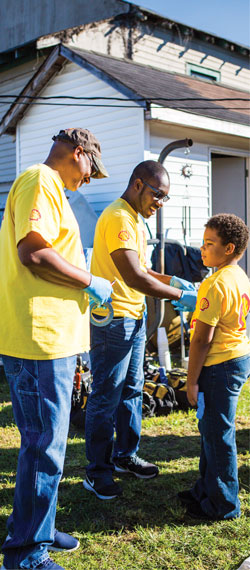 It's the first cool day New Orleans has seen all year, and Lautrice "Mac" McLendon isn't letting it go to waste. As part of Shell's effort to give back to the community, McLendon and 20 of his co-workers are making upgrades to a Mid-City home damaged by hurricanes.
Before he dabs sealant on a new backyard fence, Mac replaces his everyday bifocals with plastic protective glasses. Safety first. Whether he is helping revive still-recovering neighborhoods of the Crescent City or working toward a zero-incident day with one of Shell's many Gulf of Mexico assets, safety always comes first.
Mac is part of America's Generation Energy: focused on safe offshore operations for all of Shell's employees and contractors, and its drilling and production platforms – protecting both them and the marine environment.
Mac and his industry counterparts are dedicated to safety processes and collaborations that help improve offshore energy development – itself strategically vital to U.S. energy security.
The natural gas and oil industry has long devoted significant resources to continuous improvement of operational safety in remote and challenging offshore environments. The 2010 Macondo incident led to the creation and strengthening of more than 100 industry exploration and production standards,42 the establishment of the Center for Offshore Safety and a new generation of collaboration by companies, regulators and experts to broaden industry's offshore safety culture. Many professionals like Mac are charged with making offshore safety happen in real time, and no one is more excited about it.
"Every person is not only entitled to shut down the facility if they see something going wrong, they are expected to do so."
This commitment to safety begins before wells are constructed. Shell and other offshore operators take virtual pictures of the rock beneath the sea floor using 3D seismic imaging. This helps them better understand the geological makeup and potential energy opportunities in the area, allowing for more precise exploration and safer well designs. By reducing the number of test wells drilled, there's also less impact on the surrounding environment.
Shell also runs the Robert Training and Conference Center near New Orleans to train employees and contractors before sending them offshore, using virtual reality, control-room trainings, lifeboat simulations and more. It's evidence of industry's offshore safety commitment that other companies are welcome to send their workers to the RTC for training.
Once a platform is built – basically, a self-sufficient city on the water – it's populated with scores of skilled workers. They, like Mac, leave families for weeks at a time to produce the energy that powers and supports the U.S. economy and Americans' lives.
Mac's offshore story actually started as an electronics technician in 1998, working his way up to his present position as Shell's general manager for safety and environment for all of the company's Gulf producing assets.
When he worked away from his wife and three kids, Mac saw his offshore co-workers as his second family. Unlike a traditional family structure, where parents have the last say, everyone has a say in the interest of safety. On a platform miles from shore, not only is everyone empowered to speak up, they're expected to alert superiors if they see something.
"When we say, 'Goal Zero,' we want every person, every day on every task to do the right thing, even at the expense of production," he says. "Every person is not only entitled to shut down the facility if they see something going wrong, they are expected to do so."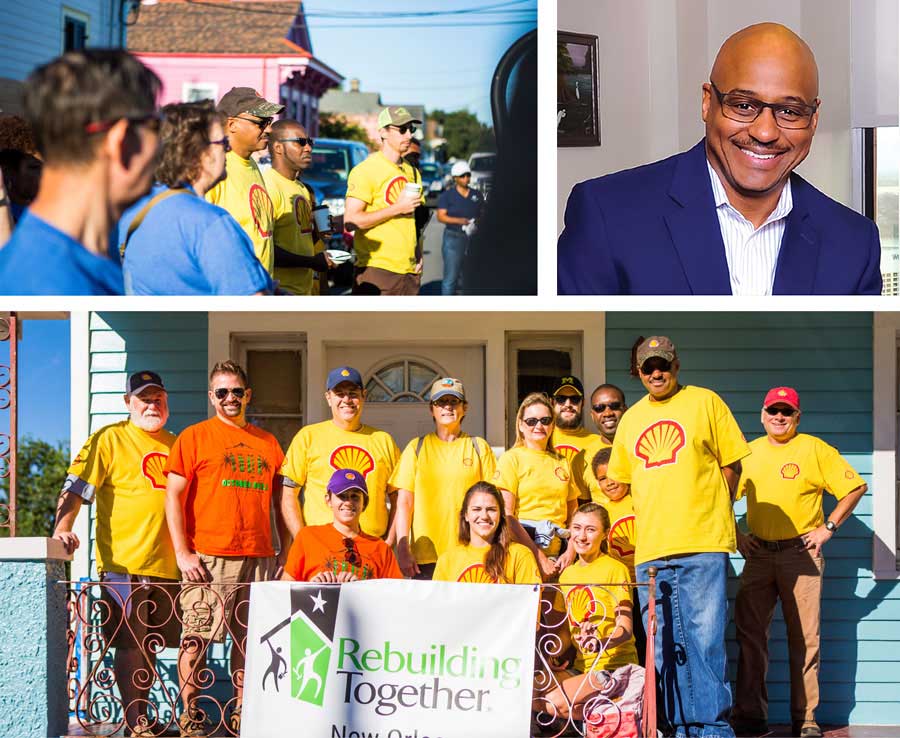 Though he spent many years in the Gulf of Mexico, Mac is now based in New Orleans – home to one of Shell's Real-Time Operations Centers. Running 24/7, the center monitors every aspect of specific platforms and alerts engineers offshore if variables move out of an ideal operating range. For example, they can detect potential leaks by carefully monitoring pressure and temperature changes. They also use vast amounts of data collected to predict and prevent potential events. Across the industry, similar measures are deployed to meet or exceed regulatory requirements. Industry's overall success is linked to the ability to continuously advance new technologies for specific purposes with operational flexibility.
On the platform itself, many engineers and technicians are using tablets to receive real-time information, constantly checking operations against baseline safety management system protocols. Safety is augmented in a highly digitalized era. Yet, as Mac notes, the offshore's digital transition is carefully managed. Even the most innovative technologies are thoroughly vetted, tested and piloted before being implemented on an offshore platform. These support 24/7 vigilance by skilled professionals, regulators and other third-party inspections.
"We're of the mindset," says Mac, "that we must perfect every technology to the point that we're not introducing another hazard into a challenging environment."
And though this culture of safety is foundational across Shell's worldwide operations, Mac and his colleagues are always looking for ways to strengthen it. So, they work with academics, technical experts and fellow natural gas and oil companies to regularly share best practices and apply lessons learned. This is critically important in the Gulf of Mexico, which Shell and other operators have made one of the United States' most productive offshore reserves.
"My biggest reward and also my greatest challenge in this job is collaborating with my onshore and offshore colleagues effectively because, as I always say, one Gulf of Mexico is simply safer."
Mac's efforts also support something greater for Louisiana and the Gulf Coast. In the Gulf of Mexico, Shell currently operates many kinds of platforms and systems. Shell has been an offshore pioneer in the Gulf for more than six decades and has achieved technological milestones in the design, construction and operation of offshore production, to which safety is fundamental.
Properly implementing and educating people on these practices and standards is a passion of Mac's. So he does whatever it takes – from managing discussions between onshore and offshore engineers every day to collaborating with industry leaders across the Gulf. The results are very good. In 2016 the U.S. Interior Department's Bureau of Safety and Environmental Enforcement reported a 35.6 percent drop in offshore incidents compared to 10 years earlier.
For Mac, it's more than a statistical trend line. Safety is personal. "I've always had a passion for people and educating them," he says, "so they can go home to their families."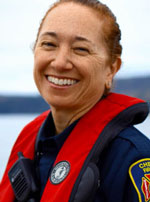 FOCUS ON SAFETY
Corena LeDonne has been with Chevron for 28 years and a firefighter with the company's Richmond, California, refinery for the past 16. Chevron is the only refinery with a full-time fire crew, additionally supported by a volunteer fire brigade. This means that the Chevron crew responds to incidents not only at Chevron's refinery but at any refinery in the region.
Refinery firefighters are responsible to Chevron, to the Richmond community and to fellow Bay Area firefighters. No day is typical. "Every day is never the same," she says, "you never know what you're going to get." Her department answers medical calls and manages work permits whenever there's a job that involves any type of spark, such as welding.
Corena's passion for boating led her to jump at an opportunity to introduce a fire boat to her department and train a crew to use it. The fireboat is used mostly for security rounds for the tankers. But it's also outfitted to respond to on-water incidents, and having its own boat makes her department more nimble in response in these situations. "I'm very happy," she says. "I never get bored."
"I'm a lucky girl. This is a great job."
- Corena LeDonne, Chevron
---
America's Generation Energy
---