What Americans are thinking:
77% of American voters support policies that ensure a secure supply of abundant, affordable and reliable energy.
The natural gas and oil industry is focused on increasing energy production while also accelerating efforts to reduce emissions associated with a process that's industrial in nature. To those ends, industry works with state and federal governments and other authorities to develop effective energy policies and regulations that support safe and responsible natural gas and oil production – to benefit the economy, U.S. security, the environment and the American people.
Energy policy must be forward-looking and help harness vast U.S. natural gas and oil reserves. Smart and effective regulation must include clear, common sense rules that consider industry's innovation, advanced technologies and experience, as well as its demonstrated commitment to setting useful standards for operations, equipment and workers. All of these have strengthened industry's safety culture.
The following pages describe the pathways to sound energy policy, smarter and more effective regulation of industry operations, onshore and offshore – all for managing the safe energy development America needs today and well into the future.
---
Expand Offshore and Onshore Access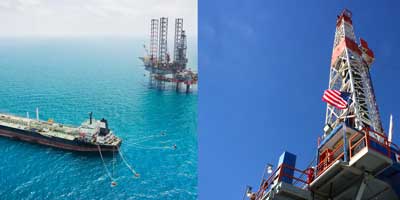 94% of offshore federal acreage is off limits to development
The United States is the World's No.1 producer of natural gas and oil
The federal government should implement a robust, strategic offshore natural gas and oil leasing program to lay the foundation for critical production that will underpin America's energy security for decades to come, while streamlining review and permitting processes to facilitate onshore development. Increasing access to the nation's natural gas and oil reserves is vital to meeting the country's energy needs. Offshore natural gas and oil reserves can take a decade or more to develop, so access now will help secure continued growth in the future. Expanded access increases production that promotes economic growth, generating hundreds of thousands of well-paying jobs and billions of dollars in revenues to governments.
Accelerate Emissions Reductions and Climate Progress
75% of Americans support the role natural gas is playing in reducing greenhouse gas emissions.

The natural gas and oil industry continues to address the significant risks of climate change – while also producing, delivering and refining natural gas and oil to power a growing economy. The United States has shown that climate and environmental progress occurs simultaneously with a growing economy and increased energy production.
The increased use of natural gas, cleaner fuels and new, efficient technologies have enabled the United States to lead the world in lowering emissions of carbon dioxide – even as these emissions have increased 50 percent elsewhere around the globe since 1990. Progress in reducing emissions can continue with a common sense approach that acknowledges the contributions made by advanced industry technologies, innovations and initiatives such as The Environmental Partnership.
The partnership includes more than 50 natural gas and oil companies that are focused on accelerating reductions in methane emissions through: shared learning about the latest industry innovations and best practices; working together to achieve improved environmental performance; and taking action with specific programs, based on EPA emissions data, that use proven, cost-effective technologies to further reduce emissions of methane and volatile organic compounds.
Build More Energy Infrastructure
Promoting energy infrastructure across the nation could support 1 million jobs per year through 2035
$1.89 trillion could be added to the U.S. economy between 2017 and 2035
84% of Americans support increased development of the country's energy infrastructure.
U.S. energy infrastructure is an arterial network of pipelines, rail systems, storage tanks, export terminals, ports and waterways that delivers natural gas and oil from production zones to refining and processing centers, and then to consumers.
The U.S. pipeline network spans 2.7 million miles, yet some parts of the country remain under-served. So new or expanded capacity is needed to ensure that Americans in all regions may benefit from the nation's natural gas and oil wealth.
Infrastructure development – including the development and maintenance of rail and marine infrastructure – supports good jobs, economic growth and U.S. security. Increasing efficiency, transparency and the certainty in federal permitting is important to align needed oversight with responsible and timely action on needed projects.
Ensure Fair Access to Power Markets for Natural Gas
Markets, not government interventions, should determine energy sources for power generation. They reward innovation, work toward lower prices, reduce emissions in the power sector and benefit consumers. Because of natural gas' abundance and flexibility, it is increasingly the fuel of choice for generating electricity. Markets should be allowed to function freely, without government putting its thumb on the scales.
The increased use of natural gas has enhanced the reliability of the power system overall. Natural gas' resilience has been demonstrated in the face of extreme weather events and other direct impacts. Clean natural gas is responsible for about 60 percent of the reductions in carbon dioxide emissions that have resulted from changes in the power sector's fuel mix since 2005.

Source: U.S. Energy Information Administration.
Open Global Markets for U.S. Natural Gas & Oil Exports
As the world leader in the production and processing of natural gas and oil, the United States can meet the needs of a growing domestic economy and also supply energy to friends and allies around the globe. Thanks to surging natural gas and oil production here at home, the U.S. is a significant exporter of both crude oil and liquefied natural gas (LNG).
These exports strengthen America's standing as a world energy superpower and are creating opportunities for the U.S. to use its energy for good around the world. Going forward, policies should support adding more LNG export capacity, which can help meet expected growth in global demand for natural gas. Policies also should facilitate increased U.S. energy exports – to boost trade, help spur domestic production and grow the economy.
Modernize and Strengthen Free Trade Agreements
An integrated U.S.-Mexico-Canada energy market helps keep energy affordable for Americans
Free trade agreements – eliminating tariffs, creating energy trading zones and protecting U.S. energy investments in other countries – help open markets for American natural gas and oil, boosting production and job growth in this country. Provisions in free trade agreements help create a level playing field for U.S. energy companies around the world, which is fundamental to the competitiveness of U.S. energy.
Congress should ratify the proposed U.S.-Mexico-Canada Agreement (USMCA) to help strengthen energy trading relationships between the three nations - which, under NAFTA (preceding USMCA) saw Canada and Mexico become the leading export markets for U.S. crude oil and a number of refined products including kerosene-type jet fuel and finished motor gasoline.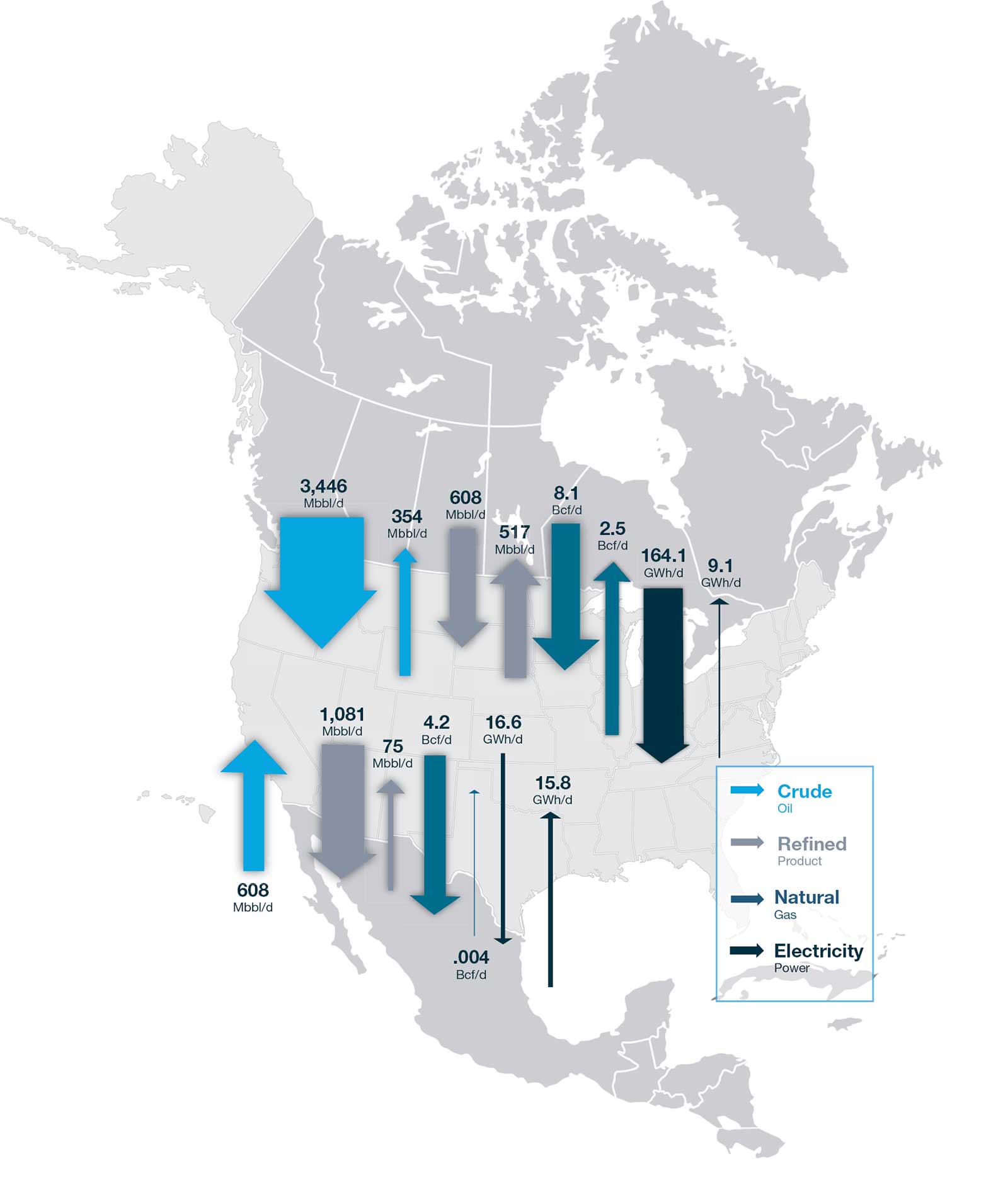 NOTE: Graphic is not scaled for energy content across different energy types
Sunset the Ethanol Mandate
74% of Americans agree that government regulation can increase the cost of gasoline for consumers
Nearly 70% of vehicles on the road today are not designed to use E15
71% of Americans are concerned about government requirements that would increase ethanol in gasoline
The Renewable Fuel Standard (RFS) is outdated and broken, and its ethanol mandates can put consumers at risk. The program should be ended or significantly overhauled. In the interim, EPA should reduce the ethanol volumes required under the program.
The RFS' objective of reducing crude oil imports has been made obsolete by surging domestic oil production. Its goal of launching commercially viable cellulosic biofuel production has not materialized. RFS mandates for increasing ethanol use in the nation's fuel supply could impact consumers.
Gasoline demand in 2018 was 14 percent lower than was projected when the RFS was implemented more than a decade ago, which means there are fewer gallons available in which to blend ethanol. 33 As a result, more higher ethanol fuels, such as E15, could be forced into the fuel supply, potentially damaging vehicle engines.
Three out of four vehicles on the road today weren't designed to use E15, based on manufacturers' manuals. In addition, fuels with higher ethanol content can damage marine engines, motorcycle engines and outdoor power equipment.
Support Industry Cybersecurity Actions
Cybersecurity of the nation's critical infrastructure is a top priority and industry takes seriously the responsibility to protect it, provide reliable energy for society and safeguard the public and environment. The cyber threats faced by industry are not unique to pipelines; they are prevalent across the energy system. Our companies recognize these threats and utilize a multidimensional approach to cybersecurity that incorporates high-level oversight and voluntary mechanisms including proven frameworks and public-private collaboration.
This performance-based approach, rather than prescriptive standards or regulations, is the best way to bolster the cybersecurity of industry companies and critical infrastructure. Government must recognize the limits of rigid mandates and guard against regulatory overreach and the imposition of rules that – in the world of information technology and cyber defense – quickly become obsolete as threats adapt and evolve.
"Our companies are providing the leadership, proactive solutions and ongoing coordination with federal agencies to help prevent future cyberattacks."
- Mike Sommers, API President & CEO
---
More: We Are America's Generation Energy