Smarter, Cleaner Power Generation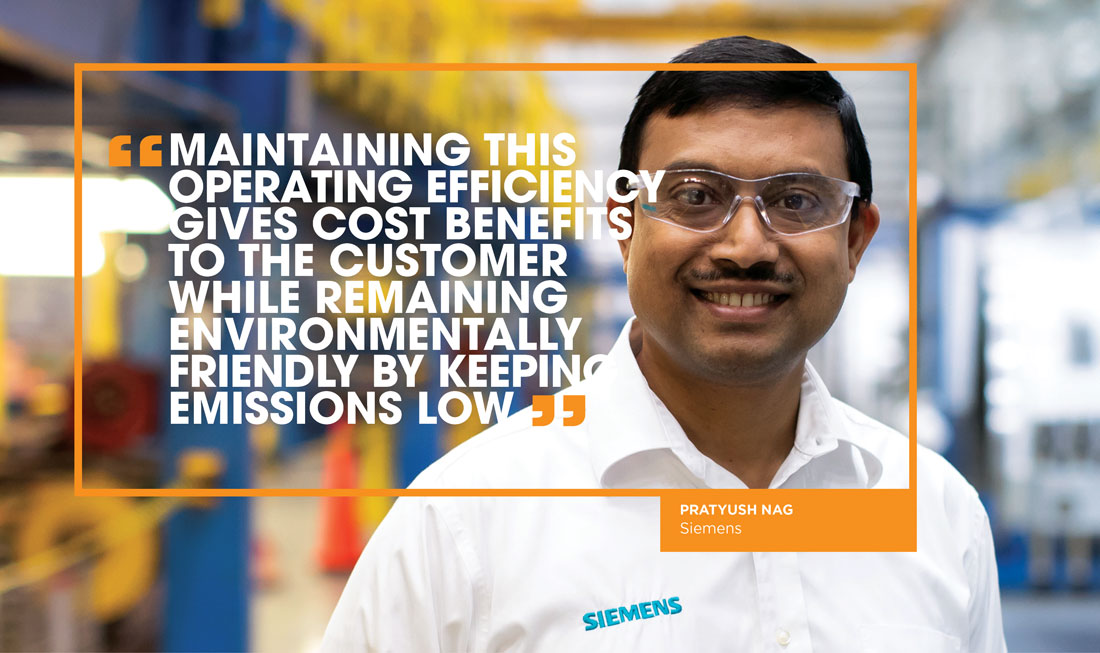 Siemens' Pratyush Nag is developing the latest turbine technology to amplify natural gas' role in powering Americans' lives.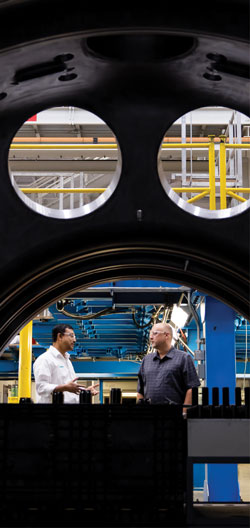 Every Sunday afternoon in Orlando, Florida, an all-girls middle school STEM team meets to work on designing and building a working car – from a mousetrap. At this age many students wouldn't know where to start, but the award-winning trio made it to nationals last year and knows its stuff.
It helps having Pratyush Nag as coach – the father of one of the team members and the leader of natural gas turbine development at Siemens, where they know plenty about building a better mousetrap.
In the world of natural gas power generation technology, Pratyush brings the same excitement and commitment to meeting challenges and making the people around him better as he does while coaching his daughter's STEM team.
Pratyush is part of America's Generation Energy: thinking, creating and perfecting energy technology so that it better serves the people using it. At Siemens, it's developing state-of-the-art electricity generation technologies fueled by natural gas. Pratyush's team of world-class engineers collaborate 24/7 to build more efficient, economical and flexible power plants for the electricity that keeps our smartphones charged and our lights on while helping to reduce emissions by using clean natural gas as the generating fuel.
Access to reliable electricity marks a modern society, and this is underscored by America's increasingly digitalized population. The cultural shift, which gained traction early in the 21st century, paralleled innovations in the natural gas industry – specifically, hydraulic fracturing and horizontal drilling. The marriage of these technologies made the fuel source more accessible and affordable for power generation. This is reflected in the marketplace, where natural gas increasingly is the generating fuel of choice by providers.
"Speaking from my own experience, the average residential electricity bill in the U.S. is relatively low," Pratyush says. That's of course because of significant American investment in fuel production, energy generation and distribution.
While affordability helped make natural gas the leading alternative to coal-fired generation, so did natural gas' ability to reduce CO2 emissions. Thanks to its high-hydrogen and low-carbon content, natural gas can produce the same amount of energy as older, traditional generation sources, while releasing 50 to 60 percent less CO2, 80 percent less nitrogen oxides and particulate emissions, and virtually no sulfur dioxide and mercury emissions. This is one of the many reasons why Americans today are breathing cleaner air than they have in four decades.
Good is not good enough for Pratyush and his team. They wanted to create a natural gas turbine that could run more efficiently – producing more power from the same amount of fuel. So, they combined cutting-edge solutions with the best traditional technologies until they developed the H-Class gas turbine, breaking through the 60 percent efficiency mark – the energy conversion rate that's a ratio of useful energy output from fuel input. This 60 percent efficiency barrier was a dream of engineers for several decades, during which combined cycle power plants have gradually inched from 45 percent toward 55 percent efficiency. "The air gets thinner, as we go toward the top," he says. "It takes an incredible amount of technological advances to get to these last digits of efficiency improvements."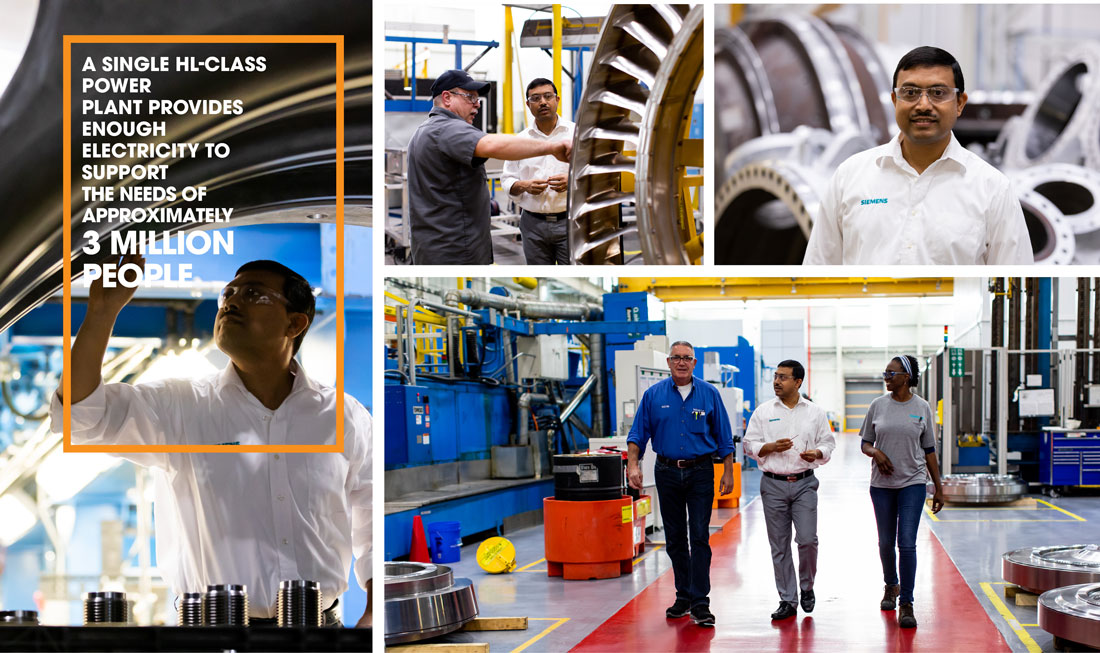 "We called it our Roger Bannister moment," he says, referring to the legendary British miler who was the first man to run the distance in less than 4 minutes in 1954.
"Engineers had tried for decades to meet that level of efficiency, but we got there first."
From that proven H-class technology, Pratyush's team recently created the smarter and even more powerful HL-class of gas turbines. Operating above 63 percent efficiency, this next-generation turbine is pushing the limits of generation performance. A single HL-class combined cycle power plant provides enough electricity to support the needs of approximately 3 million people. While these single-digit gains may seem small, their impact is massive. Running more efficiently, natural gas plants can generate more electricity at lower cost. This increases the likelihood that grid operators will dispatch that plant to meet a region's electricity demands – boosting the use of natural gas while saving money for customers. This also helps the environment, because a two percentage point efficiency improvement with a Siemens HL-class combined cycle power plant means a reduction of CO2 emissions by 63,000 tons per year – the amount of carbon captured by nearly 75,000 acres of forests in a year.
While they can generate more power, the HL-class is smaller than its predecessors. Siemens manufactures huge sections of the power-plants, and then assembles them on site, as Pratyush points out, like giant Legos. But they leave room within the machine to add innovative technologies that will help the turbine operate at high-levels throughout its life.
"In the 30-year lifecycle, we plan for three to four upgrades, so the engines can be brought back to their original performance," he says. "Maintaining this operating efficiency gives cost benefits to the customer while remaining environmentally friendly by keeping emissions low."
Like much of the industry, Siemens uses digital solutions to help its turbines in power plants run more efficiently. While employees carefully set parameters and monitor the turbines, a machine-learning algorithm, a digital twin, is constantly analyzing thousands of data points based on real-life conditions. Using that information, it can tune the turbines to optimize their efficiency and further reduce emissions.
The role of natural gas in advancing climate goals also is seen with renewable energies such as wind and solar. Natural gas is the essential partner to their growth, with the HL-class turbines providing flexible baseload power when the renewables are offline – rapidly ramping up to generate 400 MW of power within five minutes and keep electricity flowing to the grid.
"This product is designed to meet the changes of the market dynamics while complimenting the world's future energy mix." he said.
That energy mix, today and tomorrow, will include natural gas and oil, providing safe, reliable and affordable energy while taking part in advancing climate goals. And while Pratyush will never stop pushing the limits to develop the next, greatest natural gas turbine, it's the people he works with that make it all worthwhile.
"I am absolutely delighted by the people I work with," he says. "The technology is cool, but my passion is the people. Over the last 17 years or so I've recruited and developed a lot of people into different roles in the company and watched them grow, and that is my greatest reward."
---
America's Generation Energy
---