Maximizing U.s. Energy, Minimizing Its Footprint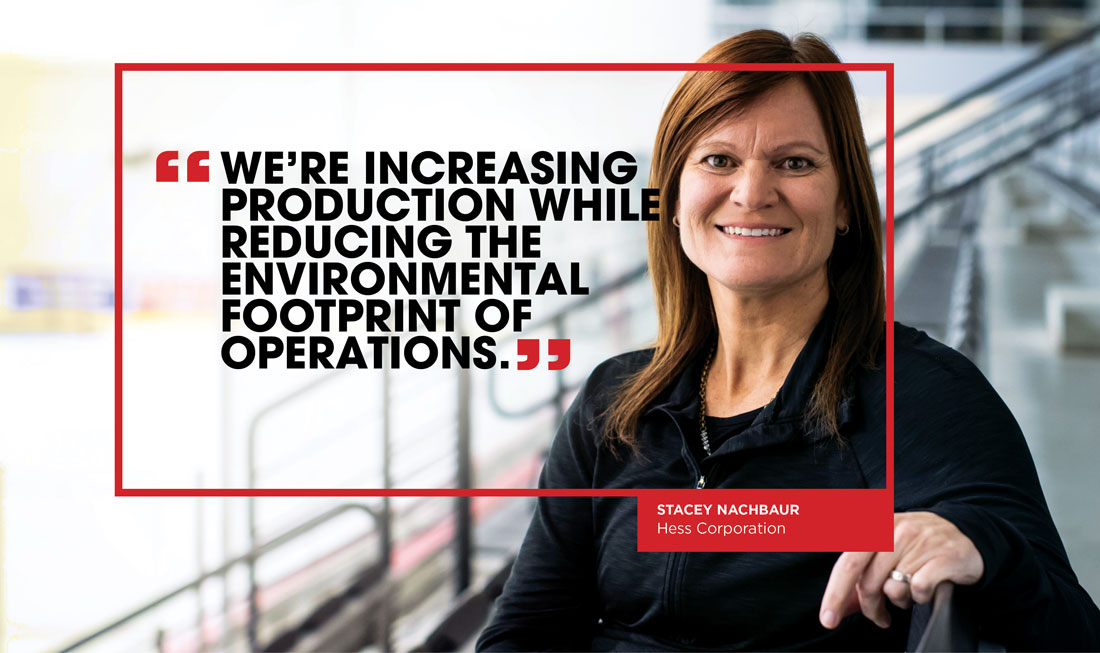 Hess' Stacey Nachbaur is on point in the digital oil field.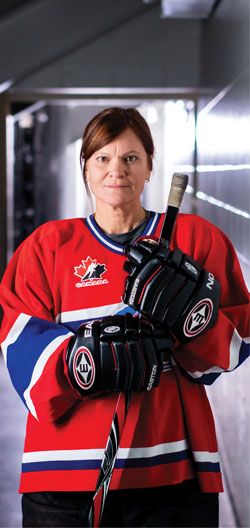 Eight hockey pucks sit lined up like black buttons on the white ice, about 6 inches apart, just above the red hashmarks at one end of the rink inside the RoughRider Center in Watford City, North Dakota.
Suited out in her hockey gear, Hess' Stacey Nachbaur eyes the closest one, gripping her stick, knees bent and skates about shoulder-width apart. The backswing of Stacey's slapshot brings the stick's blade above her head, and then she whips it through the puck, driving the shot toward the net. After the first one she cranks the others rapid-fire – the report of each shot echoing across the mostly vacant ice surface.
The same competitive fire that drove Stacey as an elite athlete during her college hockey career is an important part of her approach to managing Hess' natural gas and oil production from thousands of wells across hundreds of miles throughout northern North Dakota. The leverage she applies to her booming slapshot serves as a metaphor for the leveraging of people, data and technology to drive timely, efficient energy production.
Stacey is part of America's Generation Energy: integrating advanced technology and teamwork to develop the energy resources that power the U.S. economy and Americans' modern lifestyles while also reducing her company's physical and environmental footprint.
She and her skilled team of engineers, operators and technicians represent a 21st-century natural gas and oil industry, whose production has made the United States the world's leading natural gas and oil nation, created jobs and prosperity from one coast to the other and powered a U.S. manufacturing renaissance. It's technology-driven, smarter, safer and increasingly more efficient.
"We're working in the digital oil field," she says. "From the surface of the earth to underneath, technology is integral to protecting and enhancing production. It keeps all aspects of operation interconnected to improve safety, reduce our footprint and increase our productivity, and we have to be equipped to leverage the best of high-tech advancements to maintain our competitiveness in the global market."
Like many in the industry, Stacey sees the evolution of a modern natural gas and oil industry. More than a decade ago, industry combined advanced hydraulic fracturing and horizontal drilling to launch the U.S. energy revolution, typified by surging production using less and less surface space – reduced by as much as 90 percent compared to years ago.
Last year, U.S. crude oil production was on track to reach 10.9 million barrels per day – more than doubling output levels from the previous decade, according to the U.S. Energy Information Administration.35 EIA also projected that the U.S. would see record year-end dry natural gas production of 83.3 billion cubic feet per day and natural gas liquids production of 4.3 million barrels per day.
The Bakken shale play that covers the northwest quadrant of North Dakota and the northeast corner of Montana is where much of this production is happening. When Stacey joined Hess in 2010, the company produced 15,000 barrels of oil equivalent per day in the Bakken. Today, that number is closer to 118,000 barrels per day.
"You can see anywhere from 12 to 20 wells on a single pad today," she says. "We're increasing production while reducing the environmental footprint of operations."
Stacey's team uses exception-based surveillance technologies to maximize efficiency and safety. They analyze automated data-collection to assess pressures, flow rates, temperatures and other information from the field. These systems combine data points with production accounting information and enterprise-wide analytics to create signals that keep teams aware of the performance of every well. This enables her team to identify and prioritize wells for checks by workers – to better problem solve and optimize performance.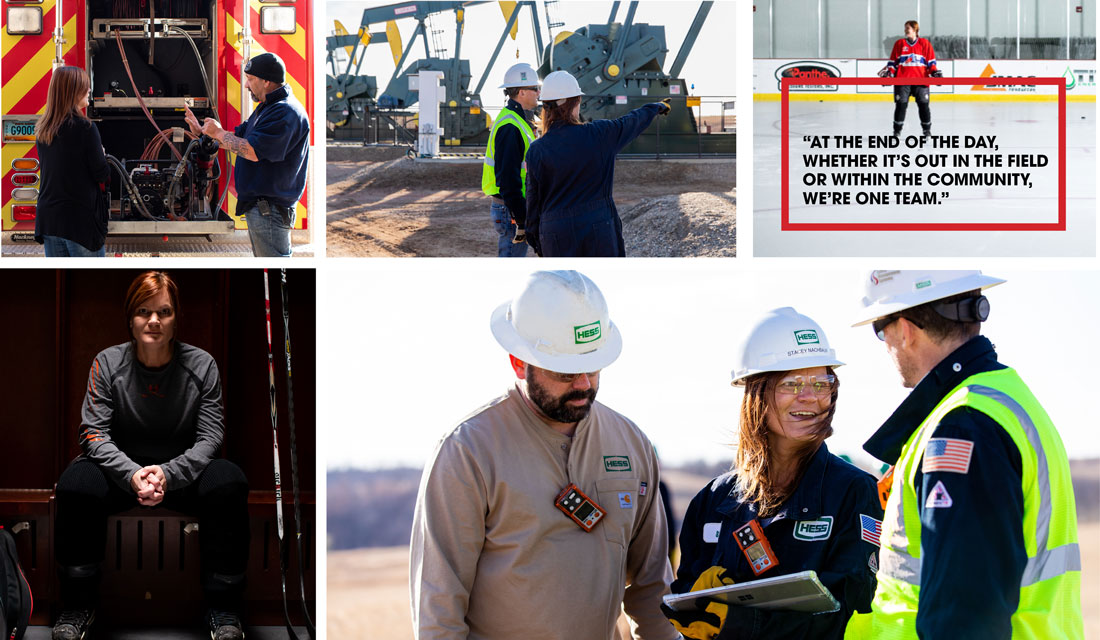 Technology also has revolutionized drilling. "Walking rigs" – fully assembled drill rigs that can move from one well to the next without being disassembled in between – let operators complete multi-well pads more quickly.
Stacey says the continuous integration of new technologies across the industry requires professionals to be nimble and flexible. A willingness to listen, learn and adapt for improvement is also why Hess is a trusted energy partner within the communities in which it operates. In addition to managing production operations, Stacey also serves on the company's community liaison team within the region. In 2018 alone, Hess supported over 40 local community organizations across North Dakota and in the past five years has invested approximately $30 million on community initiatives to strengthen education, workforce development, health and human services as well as support disaster relief.
"We're very much a part of the communities and we're committed to donating our time and services whenever we can. These are the communities where our employees live. It's where we see our friends and neighbors. We're producing safe and reliable energy. We're creating jobs and striving to improve the overall quality of life for everyone in some way."
And it's where Stacey gets to enjoy a pick-up hockey game every now and then. It takes her back to some of her most memorable times of her life on the ice – playing for the women's team in the Canada Winter Games and at Brown University before completing her eligibility and earning her degree in engineering at the University of Regina in Saskatchewan, Canada.
For Stacey, producing safe and affordable energy for the U.S. and improving the lives of people throughout North Dakota and beyond is the ultimate win. "At the end of the day, whether it's out in the field or within the community, we're one team."
---
America's Generation Energy
---