Energy in Communities: Aurora, Colorado
Natural Gas and Oil Partner With Aurora in City's Steady Growth
For more than 40 years, the Nuñez family has been serving home-style Mexican recipes from the same restaurant location in Aurora, Colorado. Today, Alfonso and his wife, Doña, proudly keep the family business going -- serving dishes made from scratch, including handmade tortillas, using recipes passed down from his parents, while also infusing creative touches of his own.
La Cueva, with its neon green sign and turquoise booths, is a staple within the community and a landmark in a city that looks much different today than it did in 1974. Alfonso says La Cueva was the first Mexican restaurant to open in East Colfax, an area within Aurora's center.
"The natural gas and oil industry is an important sector that helps to maintain economic stability throughout the Denver metro area, and the entire state of Colorado."
- Michael Orlando, Economist, University of Colorado Denver
Subscribe now to receive the latest news on Energy for Progress
Nuñez has seen much change over the years, and he'll be the first to say that not all the changes have been easy. However, La Cueva stands as a warm and comforting reminder that, just like a good meal, stability and growth in many aspects of life often require a nod to tradition, a good mix of fresh and local ingredients, and a spirit of innovation.
This is Aurora. Tradition, new ideas and innovation combining to help the city and the surrounding area emerge from the shadow of nearby Denver. It's the home to more than a dozen thriving business sectors, with 11 development deals bringing thousands of jobs and driving nearly $290 million in capital investments in 2017. In this, abundant natural gas and oil energy, much of it home-grown from the nation's 7th-largest energy producer, has played an important, empowering part.
The city of Aurora has seen the success that comes with staying true to its identity, while also creating a path for economic growth. Kevin Hougen, Aurora Chamber of Commerce president, describes the Aurora as a former bedroom community for Denver. Today, the city is vibrant, yet relaxed in its true form, and as diverse in culture and industry as it is in its appeal to people from all walks of life. From bio-science and healthcare to cybersecurity, aerospace and the military, Aurora has it.
Job growth, along with quality of life, outdoor activities, and what Hougen calls "attainable housing," are perhaps reasons why Aurora's population grew by more than 6,000 from 2017 to 2018.
Economist and University of Colorado Denver professor Michael Orlando says the state is shaped and strengthened by its varied industrial mix. "Colorado's economy exhibits more diversity than the industrial balance of the nation," says Orlando, who points to the significant contribution from natural gas and oil.
"The natural gas and oil industry is an important sector that helps to maintain economic stability throughout the Denver metro area, and the entire state of Colorado."
Orlando led a recent study that shows natural gas and oil gas add twice as much to Colorado's economic output, as compared to the industry's share of GDP nationwide. And significant tax revenues from the industry support a variety of public expenditures, including education, conservation and infrastructure.
In Colorado's 6th Congressional District, home to Aurora, the natural gas, oil and petrochemicals industry:
Supports 24,900 jobs – almost 6% of the district's employment
Directly and indirectly adds more than $3.3 billion each year – 7.5% of the district's total economy
The industry adds to the community in other ways. Volunteer and community programs from the industry include cleanup days with area students, mental health crisis help groups, active area churches and school volunteer programs all tie communities together.
And those ties continue to strengthen. The front range region around Aurora is a prime example. The area serves as a collaborative learning laboratory of sorts among natural gas and producers and nearby residents. Orlando notes that the industry integrates community input into its operations, and how all parties are becoming more engaged in ways that could serve as a model for the nation.
This engagement is part of a broader industry commitment to be a good neighbor -- to hear and respond to local concerns, improve operations and safety and to protect the environment. In turn, the environmental performance of industry facilities, fuels and other products has been improved.
In Aurora, young, entrepreneurial ventures are bringing new values to innovation. Extraction Oil & Gas, a Denver-based exploration and production company, was formed in 2012 and co-founded by then 27-year old Matt Owens, now the company's president.
Business Spotlight:
Colorado Air and Space Port, located a few miles west of Aurora and the Denver International Airport, is the state's first spaceport and a U.S. hub for commercial space transportation, research and development. In 2019, Reaction Engines, Inc., in collaboration with the U.S. Defense Advanced Research Projects Agency (DARPA), began high-temperature airflow testing of HTX, an engine pre-cooler designed to stop rocket engine components from overheating at high-flight speeds. The testing took place within their new Testing Facility 2 located at the spaceport.
Colorado serves as the nation's second largest aerospace economy, home to hundreds of companies leading and supporting groundbreaking missions related to space and planetary science.
---
Gaylord Rockies Resort & Convention Center, located in Aurora, opened its doors in December 2018. For years, area leaders had their sights set on establishing Aurora as a premier meetings destination. The $800 million property is playing a major role to do just that. The city is quickly climbing the list of top 50 U.S. meeting destinations, thanks, in part to its new, massive anchor.
With 1,501 rooms and suites, 69 meeting rooms, 486,000 square feet of meeting and exhibition space, the 85-acre property is the largest combined resort and convention center in Colorado. By 2016, prior to its opening, Gaylord Rockies booked over 400,000 gross room nights for all future years.
And its impact on the greater Aurora/Denver area shows no signs of slowing down. Several mixed-use developments are slated to be developed, including Rockies Village, which is expected to open in late 2020. Situated next to to Gaylord Rockies Resort & Convention Center, the property will offer a ski-village experience with a host of eateries and shops.
---
RK Mission Critical, a privately-owned offsite manufacturing and modular solutions company, plans to headquarter its manufacturing operations in Aurora. The new 140,000-square-foot facility is expected be operational by 2020. Following a nationwide search, the company selected Aurora due to a successful partnership with the city, the area's strong workforce, and its available space for world-class facilities. Aurora Economic Development Council president and CEO, Wendy Mitchell, says the headquarters will create new primary jobs and inject a significant amount of capital into the city's economy.
---
JAG Logistics Center at DEN, is a planned business park slated to deliver its first building in 2020. Located in Aurora directly south of Denver International Airport (DEN), the business park will encompass approximately 250 acres of commercial and industrial zoned land and provide direct access to the airport cargo tarmac. Once complete, the business park will include over 3,000,000 square feet of planned development.
But it didn't take the industry's relative newcomer long to make an important mark on Colorado. Extraction Oil & Gas has landed on the Denver Post's "Best Places to Work" list three times in the company's seven-year history.
For Brian Cain and his colleagues at Extraction Oil & Gas, social responsibility is just as important as economic impact, and speaks to much of what has led to the company's success.
"Extraction Oil & Gas solely operates in Colorado and so much about the lifestyle we, as fellow residents, enjoy centers around our natural environment and the outdoors. We take pride in being good stewards and good community partners," says Cain.
Along with corporate social responsibility, the company believes its commitment to leveraging proven technology is foundational to business. Still growing, Cain sees a sweet spot for Extraction Oil & Gas.
"We want to remain agile. That will enable us to effectively leverage cutting-edge technology like automation, and add techniques like remote monitoring that reduce costs, as we continue to invest in workforce training," says Cain.
Extraction Oil & Gas recently began installing engineered polymer sound walls and utilizing other noise reduction technology during well drilling operations.
"This is a win-win for our workers as well as neighbors in areas where we operate," Cain says. "More than anything, it serves as a testament of how innovation can enable safe operations, economic growth and a good quality of life to all coexist."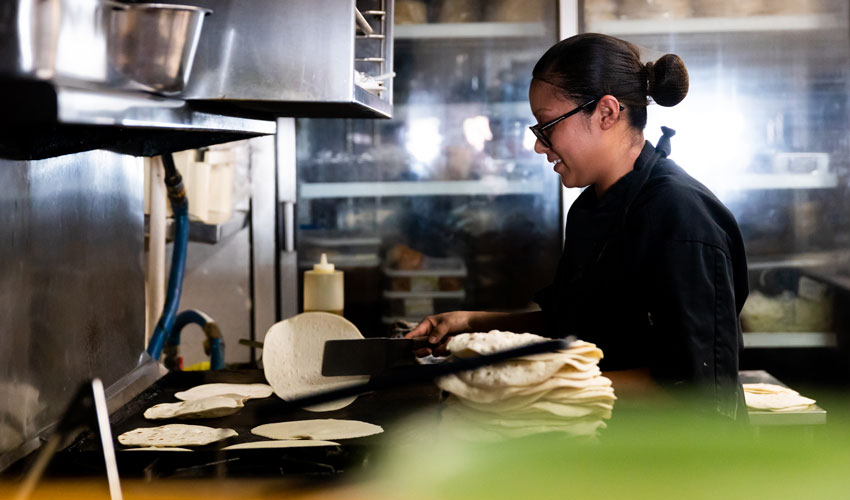 Lilla Ramos, La Cueva Restaurant – Aurora, Colorado
Colorado has seen the fruits of its energy production in more ways than one -- underscoring energy's empowering capacity.
Like economic growth, the city's energy use is well planned and managed. Electricity rates are about 10% lower than the national average for commercial use and more than 13% lower for residential. Aurora demonstrates the importance of good stewardship of rich natural gas and oil resources, as well as infrastructure. That includes the Magellan Chase Pipeline, which begins in Aurora.
The oil and natural gas industry adds more than $3.3 billion each year to the economy of Colorado's 6th Congressional District, where Aurora is located, or 7.5% of the district's total economy. Jobs include everything from petroleum engineers, environmental experts and rig hands to truck drivers, caterers and contractors. Whatever the skills or specialties, all benefit from local energy-related economic activity.
And Aurora has its sights set on continued economic growth with a number of exciting development projects underway.
Colorado Air and Space Port, located six miles from Denver International Airport, is slated to serve as a U.S. hub for commercial space transportation, research and development.
The Gaylord Rockies Resort & Convention Center, located in Aurora, opened its doors in December 2018 and stands as the largest combined resort and convention center in Colorado.
Back at La Cueva, Alfonso says that while the population and development have grown exponentially in recent years with a number of projects slated for the city's near future, like his family's recipes, the heart of Aurora remains as true as ever. But he also knows firsthand the importance of spicing things up. After all, it's what's kept La Cueva thriving for more than four decades.
SOAE 2020

---

Energy in Communities