Energy in Communities: Red Wing, Minnesota
Energy Empowers Industry, Agriculture in Southeastern Minnesota
The morning sun rises over the bluffs that frame the town of Red Wing in southeastern Minnesota, hugging the Mississippi River's southern bank about 55 miles from Minneapolis. In the nearby fields and pastures the soil is black and fertile, supporting a cornucopia of planted grains, as well as cattle ranches and chicken farms. Soon, the bounty raised here will make its way to American dinner tables all over the country.
A few miles north, an industrial corridor is home to Red Wing's robust manufacturing sector. There, scientists and engineers at research and design centers uncover new technologies and applications, while production teams build products that will be packaged, sold and distributed around the world.
"Low-cost energy helps to keep our facilities operating so that families here can continue to earn a decent living."
– Mike Goggin, State Senator, MN
Together, industrial manufacturing and farming have driven the Red Wing economy for more than a century. Today, perhaps more than ever, both are thriving in this part of the country because of abundant U.S. natural gas and oil – energy that empowers all sectors, benefits consumers and helps protect the environment. Red Wing native and state Sen. Mike Goggin recognizes the vital role affordable energy plays across the regional economy.
Subscribe now to receive the latest news on Energy for Progress
"Manufacturing is energy-intensive, and it's our bread and butter," Goggin says. "Low-cost energy helps to keep our facilities operating so that families here can continue to earn a decent living and enjoy all the things that make Red Wing so special."
Statewide, the natural gas and oil industry supported more than 117,000 jobs, or more than 3% of Minnesota's total employment in 2015. The industry provided more than $7 billion in wages and contributed more than $14 billion to the state economy – including $4.5 billion to the second congressional district where Red Wing is located.
But industry's impact is more than it and its suppliers. It's energy that fuels and produces across all sectors – manufacturing, construction, logistics, banking and more. Energy is foundational to growth and the opportunity to prosper. They're seeing it in Red Wing and the surrounding area.
The home of headquarters for global players including Red Wing Shoe Company, 3M, Riedell and BIC Graphic – the parent company of a half-dozen other well-known brands – the town of 16,000 has an oversized impact on the world. Just up the road, Marathon Petroleum's St. Paul Park refinery produces essential fuels for the nation's transportation sector.
Overall, things are good here. The area's unemployment rate of 3.1% (as of September) is about a point lower than the national rate. There's growth, and energy is playing its part. Just ask Tito Warren, a top executive at Red Wing Shoe Company.
"From the natural gas used to power Red Wing manufacturing facilities and retail stores to the fuel we rely on to transport products, and the hard workers who rely on our products, energy is tied to everything we do," says Warren, vice president of global sales.
Red Wing is one of the world's oldest work boot makers. Workers in farming, construction, manufacturing, natural gas and oil, and a number of skilled trades swear by Red Wing footwear. The company's first flagship retail location still sits along Red Wing's Main Street. A 16-foot-tall, Size 638 ½ boot was parked there to mark the company's centennial in 2005.
Energy = Skilled Trades Opportunities
The U.S. energy revolution has increased demand for pipefitters to help build natural gas and oil facilities, infrastructure and refineries. Minnesota Pipe Trades Association President David Ybarra says school boards and high school administrators within the state have responded with initiatives to help meet that need.
"The U.S. shale boom created a number of new pipe trade jobs in Minnesota," Ybarra says. "As school boards and administrators saw the opportunities within our industry, that opened the doors for us to form pre-apprenticeship programs within high schools."
Today, some Minnesota school districts offer one-day, multi-craft career days that introduce students to various trades. Students interested apply to take part in the North America's Building Trades Unions Multi-Craft Core Curriculum, administered by state and local Building Trades Councils. The standardized, comprehensive, 120-hour construction course helps students select and go on to succeed in apprenticeship programs after high school.
The number of students enrolling remains strong. "A career in the pipe trades can provide good wages, benefits and retirement," says Ybarra, whose union has about 9,000 members. He says first-year apprentices earn roughly $40 per hour in wages and benefits. Most programs generally require apprentices to complete five years of training or 8,000 hours.
Ybarra sees a long future for skilled trades people working on natural gas and oil projects. "Natural gas resources, fuel and oil will continue to be in high demand for decades to come. Our own training facility demonstrates our long-term commitment to training people to ensure we continue to meet the needs of America's natural gas and oil industry."
Updating important energy infrastructure in Minnesota, including Enbridge's Line 3 project, offers such opportunities. The company estimates Line 3 will create 8,600 jobs in the state during construction.
Besides boots, the company makes protective workwear, gloves, safety glasses and more. These items are particularly important to natural gas and oil industry workers, from the Permian Basin of West Texas to Southeast Asia. Other heavy industrial trades rely on Red Wing products, too. Warren calls the boots a "symbol of American manufacturing everywhere."
Others point to energy's positive role as well. David Ybarra, president of the 9,000-member Minnesota Pipe Trades Association, says the U.S. energy revolution helps support much-needed job growth at a critical time.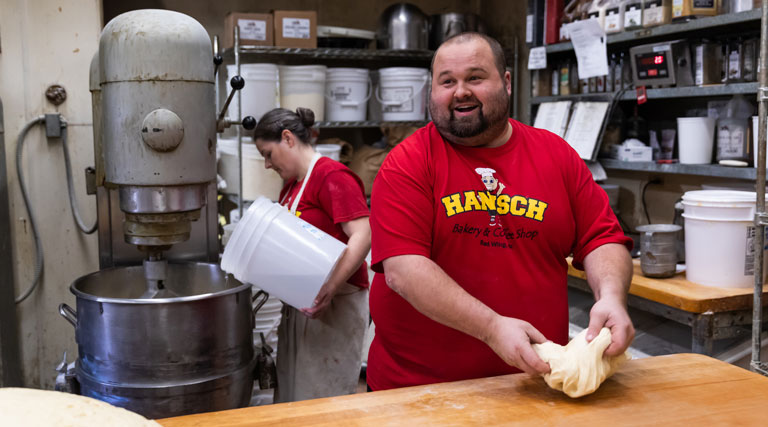 Bill Hanisch, Hanisch Bakery & Coffee – Red Wing, Minnesota
"The commercial and residential segments of the pipefitting industry were hit hard during the recession and we didn't have a lot of other options," Ybarra says. "The shale boom sustained us, drew more people to pipefitting and led to jobs at nearby refineries and natural gas plants that are just as important to trade workers today."
These are great times for the locally owned bakery and coffee shop. But Hanisch remembers 2007, when things weren't so great. As natural gas and oil prices were at some of their highest levels, Hansich's operating costs skyrocketed.
Powering Small Business
Bill Hanisch, Red Wing native and owner of Hanisch Bakery & Coffee Shop began working there as a teen more than two decades ago. Today, his son is learning from the ground up as part of Hanisch's team of nearly 40 employees.
"Flour went from $9 a bag to $49, and gas[oline] prices were around $4 a gallon," Hansich says. "We tried our best to avoid raising our prices but, in the end, we had to tack on delivery fees and make other adjustments to cover all of the indirect cost increases."
Conversely, as energy prices decreased – helped by resurgent domestic natural gas and oil production – so, too, did the costs for a number of the ingredients for his 80 varieties of donuts and pastries. Thanks to steady growth, Hansich says he plans to expand the bakery and coffee shop in 2020.
"Today's affordable domestic energy provides greater stability, which in turn, enables me to forecast and budget more accurately."
---
Powering Manufacturing
Natural gas provides the base ingredients to produce plastics, fabrics and other essential materials developed in Red Wing and around the world.
Over 10 years, Minnesota reduced its carbon dioxide emissions from power generation by more than 25%. Minnesota's use of natural gas to generate electricity has increased nearly 75% since 2007.
The industrial sector is the largest consuming sector for natural gas. In 2018, industrial users accounted for more than one-third of the total natural gas consumed in the state.
The US Energy Information Administration EIA) reports that nationwide, the industrial sector alone accounted for 30.4% of natural gas deliveries in 2018. The natural gas will primarily be used for lighting, as well as heating, cooling, and other applications to support manufacturing.
SOAE 2020

---

Energy in Communities