Energy is Powering Environmental Progress
---
Using advanced technologies, natural gas and oil are produced more cleanly and with a smaller environmental footprint. Companies are focused on reducing emissions of methane during production while refineries are producing cleaner fuels.
Leading Emissions Reductions
Empowering Renewable Energies
Developing Cleaner Fuels
Partnering To Advance Environmental Goals
Spotlight: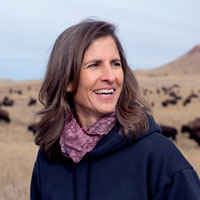 Colleen Faber
Environmental Health & Safety Supervisor, Anadarko Petroleum – Wyoming
"Any reduction in our impacts is as good for the industry as it is for the environment, for our communities, and for our own families."
Today's natural gas and oil companies are committed to safely developing the energy Americans use every day while also protecting the environment.
A health, safety and environment senior staff representative for Anadarko Petroleum, Colleen and environmental professionals like her at other companies across the natural gas and oil industry work to ensure that industry's environmental progress continues – built on technology, innovation and ever-improving industry standards and best practices.
Colleen has a degree in agronomy from Montana State University, and she has dedicated her career to safe land use and environmental stewardship. Since she began working at Anadarko in 2004, industry has come a long way.
Engineering innovations like directional drilling are game changers in industry's effort to limit its environmental impacts. "A single horizontal well can take the place of 10 vertical wells," Colleen says. "This means less air emissions, less water usage and disposal, and a much smaller surface footprint to produce just as much oil and natural gas."
Technology and data are also integral across every aspect of oil and natural gas development. "Before any kind of development begins we use geographic information systems data to vet locations, so we can evaluate risks and make the best possible selection," she says. "Once we pick a location, we do extensive monitoring at the surface to understand the vegetation and soil, so we know exactly how to restore the land once it's time to shrink our footprint."
It takes about four to eight weeks to set up and perform a horizontal drilling and fracking operation. Once these activities are completed and the wells are flowing, the heavy equipment is removed and the land around the site pad is restored to its former state. All that remains on the pad are the well heads, valves, flow lines and storage tanks, which take up a fraction of the site's original footprint.
"Improved practices during drilling and fracking make a significant difference," she says. "By using surface pipelines to bring in water during drilling and fracking, along with remote telemetry that lets us monitor everything happening at the well sites without having to make daily visits, we've made huge reductions in vehicle traffic. This makes our operations safer and better for the environment, for wildlife and for communities."
While oil and gas companies are busy developing energy from natural resources, they're also partnering with universities and other facilities to support research and development that continues to move the industry's environmental progress forward.
"Anadarko was the University of Wyoming's Research Partner of the Year in 2015," Colleen says with pride. "Investing in engineering innovations and new technologies is a win-win proposition. We may spend more up-front, but any reduction in our impacts is as good for the industry as it is for the environment, for our communities, and for our own families."
---
Protecting the Environment is a Core Industry Value.
The communities in which our companies operate expect that we will work to protect the air and water, that we will strive for the smallest possible footprint and that we will carefully restore areas when work is completed. Environmental stewardship is essential to sound corporate conduct. We're committed to safely and responsibly supplying Americans with the energy they use every day because they're our neighbors, and these are our communities, too.
Our industry invests in ongoing research into new technologies and other practices for cleaner, more efficient operations. Government data show this commitment has worked. Greenhouse gases have been greatly reduced, cleaner-burning fuels have helped improve air quality and our stewardship of valuable resources, such as water and surface spaces, has grown.
Reduced CO2 Emissions from Power Generation
Since 2005, carbon dioxide emissions from power generation have decreased 25 percent.
By 2030, power plant CO2 emissions could drop as much as 30 percent from 2005 levels
Fuel switching to natural gas is responsible for the majority of power plant emissions reductions
CO2 emissions from energy use across the entire economy are at the lowest levels in nearly 25 years
In our latest commitment to environmental performance, we launched The Environmental Partnership, whose participants will work together to further reduce emissions from natural gas development. The partnership also is designed to identify additional opportunities for action on other environmental issues in the future
Bottom line: The natural gas and oil industry will continue advancing environmental performance through innovative research, technology and operational practices.
Reducing Emissions
Greater use of clean, reliable, affordable natural gas is driving significant environmental improvements. The United States is leading the world in CO2 emissions reductions because of abundant domestic natural gas and its use across our economy.
Growing use of natural gas as a fuel for electricity generation has helped lower emissions of carbon dioxide from the power sector to their lowest point in nearly three decades. By 2030, these emissions could drop as much as 30 percent from 2005 levels, primarily as a result of continued fuel switching to natural gas for generating power.
Reduced Methane Emissions
Natural gas is also the essential partner to intermittent renewable energy sources, providing reliable fuel for power generation when the other power sources are unavailable. At the same time, natural gas goes into the production of wind turbine blades and photovoltaic cells – meaning that as more renewable power generation comes online, natural gas' role will grow, too.
Industry continues to reduce its own emissions. While natural gas production rose nearly 52 percent between 1990 and 2015, emissions of methane from that production declined 16.3 percent. This is primarily because of industry investments in better, more efficient equipment, leak detection measures and other mitigating technologies.
Partnering Today and Tomorrow
The Environmental Partnership is industry's voluntary commitment to continuous improvement in environmental performance, with its first initiative focused on taking actions to reduce emissions associated with natural gas and oil production.
Industry Environmental Leadership
The Environmental Partnership's mission is continuous improvement of the natural gas and oil industry's environmental performance. Program highlights:
27 participating companies
Reducing methane and other emissions from onshore natural gas production
Incorporating new technology and best practices
Reporting and tracking progress
Sharing data and knowledge

Initially, participating companies are focused on reducing methane emissions from onshore natural gas operations, because EPA identified these operations as a leading source of those emissions.
The foundational principles of the partnership include, first, a commitment to take action and to put technology and innovation to work to further cut methane emissions. Second, participants have agreed to share scientific data, to learn together and to expand what is known about emissions and effective emissions-cutting technologies and programs. The third founding principle, underlying the other two, is collaboration, a commitment to create a united industry effort to achieve emissions reduction goals.
The broader goal is steady environmental progress, which is why participants are committed to annual reporting, which will track that progress and help guide the program in the future. The partnership is adaptable, so that cooperation to reduce emissions may help tackle other important issues in the years ahead.
We have been able to produce more natural gas while also lowering emissions. But rather than rest on these accomplishments, this industry is seeking to build on them. The Environmental Partnership will help America's natural gas and oil industry share goals, technologies and best practices that will make our environmental performance even stronger." – Mark Berg, Pioneer Natural Resources
Environmental Enhancements
Industry's commitment to the environment is backed by hundreds of billions in investments: in technologies to reduce emissions during production, to improve air quality at refineries, to support ongoing environmental research and development and to make cleaner fuels for U.S. cars and trucks.
Cleaner fuels used in today's more efficient vehicles are helping reduce pollutants in tailpipe emissions. Overall, new cars, trucks, SUVs and heavy-duty trucks and buses run about 99 percent cleaner than models produced in 1970, according to EPA. These helped reduce U.S. air pollution by 73 percent between 1970 and 2016, even as vehicle miles traveled increased 190 percent and the economy grew 253 percent.
The industry also is researching zero- and low-carbon technologies in support of substitute and less carbon-intensive fuels and other energy technologies. Investments totaled nearly $90 billion from 2000 to 2014 – almost as much as the rest of U.S.-based private industries combined. Our companies are investing in wind, solar, biofuels, geothermal and landfill digester gas. Since 2000, the industry accounted for $1 out of every $6 spent on non-hydrocarbon technologies.
Environmental Investments
$339 Billion+
Between 1990 and 2016, industry has invested more than $339 billion on environmental enhancements.
Improved environmental performance: Fuels, operations, facilities
Focus: Technologies, research & development $1,045 for every person in U.S.
Includes $166 billion spent by U.S. refiners
Improving our Stewardship
Our industry is meeting the country's energy needs while minimizing our environmental footprint. U.S. natural gas production reached an all-time high in 2015 – more than 27 trillion cubic feet – while crude oil production reached 3.4 billion barrels, output not seen in more than four and a half decades. At the same time, new technologies and more efficient operational practices shrank industry's surface presence and reduced its use of freshwater. In 2015, nearly 77 percent of the most prolific U.S. wells – those producing more than 400 barrels of oil per day – were horizontally drilled, according to the U.S. Energy Information Administration (EIA) – meaning that multiple laterals can go out from a single vertical well, reducing the surface footprint by as much as 90 percent.
Meanwhile, new innovations enable the use and reuse of many kinds of water in operations – including brackish water, produced water and municipal water of varying qualities. These uses, along with advances in hydraulic fracturing fluid chemistry and treatment, cut freshwater requirements, reducing truck volumes, associated noise and road wear and tear.
This is a smart, maintainable water use and reuse cycle that can be repeated during natural gas and oil production. In Pennsylvania, for example, industry now recycles more than 90 percent of the wastewater produced from exploration and production activities. Accomplishments like this are becoming increasingly common – as is the repurposing of treated produced water for additional beneficial uses, such as in cooling towers at power plants and in range land restoration.
---
Spotlight: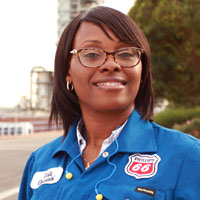 Lola Owolabi
Environmental Engineer, Phillips66 – CA
"We take our impact on the environment, and our responsibility for operating safely, very seriously."
As an Environmental Engineer at Phillips 66's Los Angeles Refinery, Lola Owolabi is an expert on air – clean air and keeping it that way. She manages compliance under the refinery's Title V operating permit, as well as the facility's flares program. Both roles help ensure that the refinery's air emissions are within or well below regulatory levels.
"I'm passionate about driving environmental compliance," Lola says. "Right now, my expertise is in air, but my goal is to learn more about water and waste programs. Eventually, I hope to be in a leadership role as an environmental manager."
Lola is one of a number of environmental experts working for natural gas and oil companies. Her zeal for environmental progress reflects the natural gas and oil industry's broader commitment to protecting the air and water by enhancing the environmental performance of operations, products and facilities, such as P66's L.A. refinery.
Born in Nigeria, Lola moved to the United States with her family as a teenager because her parents wanted her and her brother to attend college in the U.S. In 2008, Lola graduated with a chemical engineering degree and started working for ConocoPhillips. When the company split its upstream and downstream operations in 2011, Lola stayed with its downstream side, now known as Phillips 66. She has since parlayed her interest in environmental stewardship into a master's degree in environmental engineering, which she completed in 2014.
For Lola, the best part of her job is feeling like a valuable part of a team that's making a difference. "I like knowing my contributions matter," she says.
"For instance, we recently needed to make repairs to a roof ladder on one of our storage tanks, and I was able to successfully petition the Air Quality Management District to let us make the repairs without taking the tank out of service."
It was an important achievement. Taking a storage tank out of service means using degassing equipment – a source of air emissions – and it's a costly process, she says. Her work showed that a major industrial facility like a refinery can conduct important operations and protect the environment in a way that's cost-effective.
"One of the highlights of my career so far was working with a team to reduce flare emissions from planned maintenance work at our Carson, California, facility," she says. Using an innovative, caustic scrubbing technology, the team significantly reduced flare emissions and set a new standard for Phillips 66.
"We were able to minimize our environmental footprint – and do the right thing for the local community," she says. For their efforts, the Carson project team earned a Phillips 66 Golden Shield Award, the company's highest recognition for outstanding commitment to the community by delivering best-in-class environmental performance."
Lola is proud of the industry's continuous investments in improved safety and environmental performance. "Our industry is highly regulated," she says. "We take our impact on the environment, and our responsibility for operating safely, very seriously."
---