Energy is Powering Manufacturing
---
Natural gas and oil are used in everyday products too numerous to count – as well as in cutting-edge technologies and inventions that improve Americans' health; support longer, more enjoyable lives; and boost their standard of living.
Supporting Modern Lifestyles
Safer Vehicles
Energy for Advanced Technologies
Spotlight: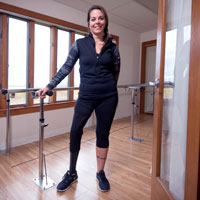 Bergan Flannigan
Retired U.S. Army Captain – New York
"You've got to get up and get on with your life... I'm proud to have served my country. I've got no regrets."
Life can change in an instant. It did for U.S. Army Capt. Bergan Flannigan in 2010. One moment she was leading a foot patrol in Kandahar, Afghanistan. The next she was on the ground, a high-pitched ringing in her ears and her right leg shattered by a roadside bomb.
What Bergan thought would be a long military career was cut short, in an instant. After numerous surgeries and two years at Walter Reed National Military Medical Center, she's now retired, back in her hometown of Plattsburgh, New York, and caring for her 3-year-old daughter, Willow.
From the moment Bergan wakes up in the morning until she goes to bed at night, she wears a prosthetic leg that's a melding of biomedical engineering, artificial intelligence and petroleumbased materials. Modern prosthetics like Bergan's provide better mobility and more comfort than ever before for about 2 million Americans living their lives after losing a limb. Bergen started wearing her prosthetic when she was pregnant with Willow. "I figured I'd need full-time mobility as a mom, so I might as well get used to it," she says. Which she has done. In fact, being a mom gives Bergan extra incentive to go about business as usual.
"I used to feel self-conscious about people staring at my leg, so I'd avoid social situations," she says. "But I've had to get over that because I don't want Willow to miss out on anything." Bergan's daily routine includes about two hours of gym training. "I used to be all about cardio, but I've made some adjustments." Now she's an avid weightlifter and is game to explore new physical endeavors. Last winter she tried skeleton sledding, which is similar to riding a luge, but with the rider lying face down and head first.
Losing a limb is life-changing, but Bergan proves it doesn't have to be life-ending. Her prosthetic plays a big part in that. Durable, lightweight resins derived from natural gas and oil are integral in the new generation of "active prostheses" that can mimic human characteristics such as flexibility, grip, strength and surface friction.
In the seven years since Bergan lost her leg, she has had several different prosthetics and dozens of different sockets – the component that encases the residual limb. It's by far the most important feature for an amputee's comfort and mobility. Bergen's current, double-walled socket was designed and fitted by prosthetist Jeff Erenstone, owner of Create O&P in Lake Placid, New York, which uses 3-D printing technology to build prosthetics, reducing the time it takes to build and customize a socket from a few weeks to a few hours. Prosthetists are assisted in their craft by a new generation of thermoplastic urethane (TPU), a soft flexible material that is also strong and durable and derived from petroleum. Soon it will be possible to make prosthetics with different densities — soft in the fleshy areas but more rigid in the center where the bone would be — to better replicate the feel of a real limb.
Create O&P also makes custom prosthetic covers that encase the prosthetic's metal pipe. These can be made in a wide array of colors and patterns – and even imprinted with a tattoo – to help users feel more emotionally connected to the device. "I have Rosie the Riveter on mine," Bergen says. "She's a symbol of women's strength, and I just think she's cool."
Strength is something Bergan and the iconic riveter have in common. When people ask about dealing with adversity, she points to inner determination. "It's hard, and it's going to be hard," she says, "but it comes down to you. You've got to get up and get on with your life. In spite of what happened to me, I'm proud to have served my country. I've got no regrets."
---
Other Than Water There are Few Substances on Earth That We Count on More Than Natural Gas and Oil.
A few years ago, the Manhattan Institute's Robert Bryce wrote: "If petroleum didn't exist, we'd have to invent it. Nothing else comes close to oil when it comes to energy density, ease of handling, flexibility, convenience, cost, or scale. Bryce was spot on. Natural gas and oil are packed with energy; they're portable and storable. The adaptable properties of natural gas and oil, for the fuels and products we use every single day, make them a necessity for modern life.
Very few aspects of modern life aren't touched in some way by natural gas and oil. Thousands of products made from natural gas and oil make life healthier, safer, more comfortable and more enjoyable. They help save time for the things we want to do. They support creativity, help us manage our environment and think beyond ourselves. Their hydrogen and carbon molecules provide the building blocks for thousands of products and materials that weren't available to Americans 100, 50 or even 25 years ago.
In terms of products that are essential to modern living, natural gas and oil play important roles in a number of areas – medicine, health care, transportation technologies, safety, clothing, equipment for first responders and so many more. In all of these uses associated with natural gas and oil, the greater good is served.
This is especially true in the medical field. The products made from natural gas and oil – such as artificial heart valves and acrylic lenses – are strong and durable, yet lightweight with the ability to be formed into any shape and less likely to pose a rejection risk. This makes them very useful in medical supplies such as sterile gloves, IV lines and more.
We enjoy a level of mobility that would have been impossible 100 years ago. From planes to cars to buses to bikes, we are able to navigate our world more quickly and efficiently than ever before, with help from natural gas and oil. Motor vehicles, no matter the power source, are safer, lighter, sleeker and faster because of petroleum- and natural gasbased fibers, compounds and adhesives used to manufacture and maintain them. We rely on seat belts and air bags, made with the help of natural gas and oil, to keep us safe in vehicle emergencies. Other materials and fabrics manufactured from natural gas and oil – durable, yet lightweight and flexible – help protect first responders, who in turn protect the rest of us.
All of this is possible because of the seemingly endless ways scientists are able to manipulate hydrocarbon molecules to create fabrics that have the qualities people need and want for multitasking lifestyles. As these types of products become more popular, not only will the apparel of tomorrow look good and be more comfortable, it may alert us to medical emergencies, help us train more safely and more efficiently, and ultimately take its place as part of the digital universe alongside our smartphones, fitness trackers, tablets and laptops.
The catalogue of products like these that reach each part of everyday life is voluminous. Natural gas and oil also support creativity and modern communications. From the pottery made during Egypt's first dynasty about 8,000 years ago, to the 15th-century introduction of oil paints to the invention of photography in the early 19th-century to the advent of recorded sound and motion pictures at the beginning of the 20th-century, technology assisted by energy has advanced artistic expression.96, 97
The following content illustrates the positive ways natural gas and oil impact our lives.
---
From health to transportation safety to favorite pastimes and much more, natural gas and oil are involved in the products that make Americans' lives modern, healthier and more comfortable.





















---