Extending U.S. Energy Leadership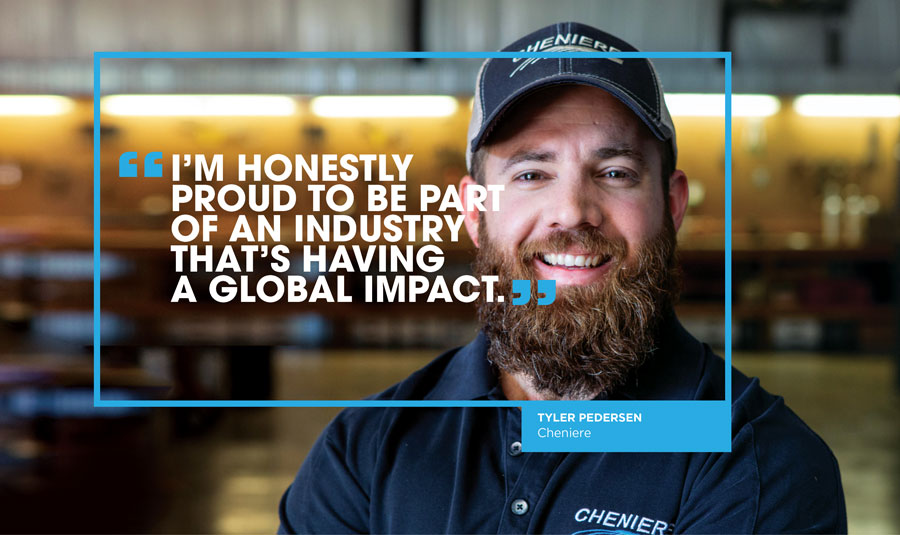 Cheniere Energy's Tyler Pedersen­—on the frontier of exporting U.S. natural gas.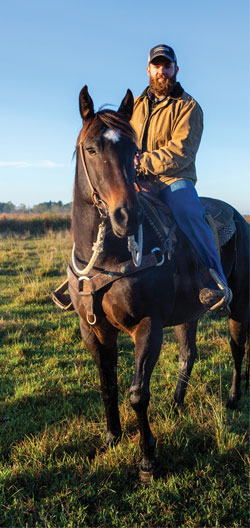 Bell City, Louisiana, is little more than a post office, a school, a stop sign and St. John Vianney Church – all collected around an elbow jog in state highway 14, about 25 miles southeast of Lake Charles and 30 minutes north of the Gulf of Mexico.
It's rural, which is the way Cheniere Energy's Tyler Pedersen likes it. It's where he learned skills that led to a rodeo scholarship at McNeese State University and where he's taught his children how to put in an honest day's work on the family farm – room to rope and ride and enjoy a unique culture that's a throwback to America's pioneering era. Tyler and Cheniere are pioneers as well.
America's natural gas abundance, coupled with the construction of new infrastructure to export liquefied natural gas (LNG), has opened new frontiers for the United States as a global energy leader, helping friends and allies, growing trade and supporting energy jobs here at home. Tyler, a supervisor of pipeline and midstream reliability services for Cheniere, senses the next-generation moment afforded by plentiful domestic energy.
"Being at the forefront of a rapidly expanding industry happens once in a lifetime, if you're lucky," he says. "At Cheniere, we're setting the pace and cutting the trail for the rest of the U.S. when it comes to exporting LNG. And being part of their team is incredibly rewarding."
Tyler is part of America's Generation Energy: secure and outward facing because of America's energy wealth. He and his team of highly skilled engineers work every day to ensure safe, reliable delivery of U.S. LNG to the global marketplace, using innovative technologies to support a pipeline network that brings natural gas from the field to Cheniere's liquefaction plants for chilling to liquid form and export.
The notion of the United States as a natural gas exporter was unheard of a decade ago. At that time, it looked like the U.S. was running out of natural gas and was building import facilities. Then came the U.S. energy revolution. Because of advanced hydraulic fracturing and horizontal drilling, the country has been able to access natural gas and oil trapped in shale and other tight rock formations. Now there's natural gas abundance – to supply domestic uses that benefit U.S. consumers and allies as well.
"Our ability to proactively maintain pipelines absolutely positions the American energy industry as one of the most "
In 2016, the first LNG vessel departed Cheniere's Sabine Pass terminal, located on the Louisiana-Texas state line. In 2017, the U.S. became a net natural gas exporter for the first time since 1957.
America's place as an energy superpower continues to grow. The U.S. is projected to be the second largest natural gas exporter in the world by 2022. This helps create jobs and economic growth across the energy sector and other U.S. industries, while also providing friends abroad with a cleaner, reliable energy source, making them less vulnerable to others who would use energy for political advantage.
Tyler appreciates the bigger picture. "We're able to provide a dependable, affordable fuel source," he says. "In my opinion, the one thing that sets our industry apart is the dependability that you can expect from the United States and its energy."
Providing energy on schedule takes a lot of work. Once extracted, processed and compressed, the natural gas travels through interstate and then Cheniere-owned pipelines to the company's export terminal in southwest Louisiana. Tyler and his team monitor and maintain those pipelines so that the natural gas moves safely and efficiently.
Digital tools play a big role. The entire pipeline system is mapped out with GPS technology, which means Tyler can use an aerial application to pinpoint exactly where his attention should be focused. This allows the company to more efficiently use its crews in the field. Tyler and his team can use thousands of operating data points to quickly analyze performance.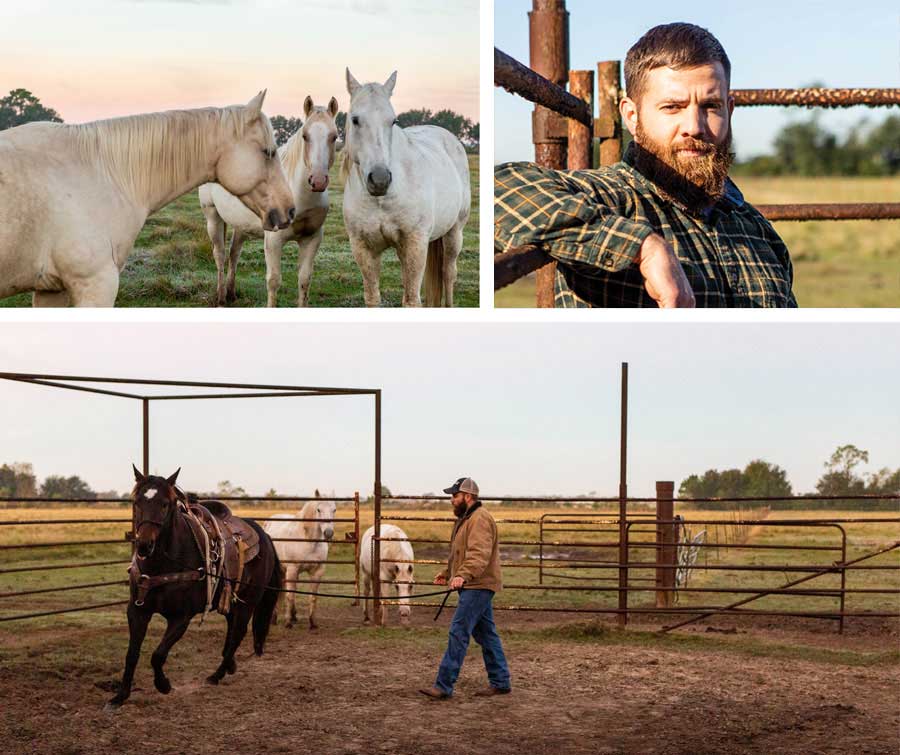 "Proper construction and ongoing maintenance drive dependability," says Tyler. "Our ability to proactively maintain pipelines absolutely positions the American energy industry as one of the most efficient and reliable in the world."
Cheniere works hard to ensure the safety of its employees and the surrounding environment. When filling tankers with LNG, massive ships are attached to the terminal with a loading arm that can automatically close and quickly detach from the vessel if necessary. Even in the shipping of LNG, clean natural gas makes a difference: Many LNG tankers are themselves powered by natural gas, which can reduce the ship's greenhouse gas emissions by up to 30 percent.
"I think manufacturers see an abundant, clean energy source and are figuring out ways to make this fuel user-friendly for the trucking and shipping companies," Tyler says. "You also see changes in regulations becoming more stringent, so the market demand is there as well."
Increased access to clean natural gas for electricity generation is the main reason U.S. carbon dioxide emissions are at 25-year lows.47 Also exportable is this natural gas model that can help other nations reduce their emissions.
"We are very lucky to live in a politically and economically stable country that is rich in resources, like natural gas. Not everyone does," he says. "I'm honestly proud to be part of an industry that's having a global impact – making the world a more secure and cleaner place to live."
---
America's Generation Energy
---