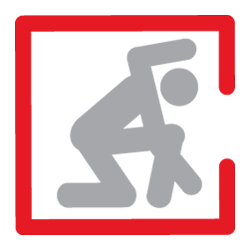 Before entering a confined space, workers need to be properly trained on entry procedures and in the proper use of equipment. Workers should always have a standby person, or Hole Watch, posted outside the hole who remains in direct communication with the workers inside. For more detailed information on confined entry space procedures, check out API WorkSafe training and relevant API safety standards.
Download/Print Rules to Live By Booklet
A confined space is:

Large enough and so configured that a person can bodily enter and perform assigned work.
Has limited or restricted means for entry or exit.
Is not designed for continuous occupancy.

A permit is typically required for entry into confined spaces.
Before entering a permit-required confined space:

Be trained in the proper use of equipment to be used.
Be trained on confined space entry procedures.
Sign the permit.

Wear lifelines, harnesses and other appropriate rescue equipment while in a confined space.
Always have a standby person/Hole Watch posted outside the hole who remains in direct communication with the workers inside and maintains a list of those that entered. The standby person should never leave the confined space while someone is in it.
Always hold a pre-entry safety meeting to review details of the job, precautions and concerns.
Contact the operator's safety coordinator for help in confined spaces if there are any questions or uncertainties.
Conduct atmospheric testing before and during entry.
Assure that an effective rescue plan is in place.
Periodically monitor confined space entry work for compliance with permit requirements.
Examples of Confined Spaces
Storage Tanks
Frac Tanks
Tank Trucks
Mud Pits
Bulk Tanks
Process Vessels
Furnace Boxes
Sewer Systems
Ducts
Flues
Manholes
Valve Boxes
Cellars
Pipelines
Pits
Excavations>4 ft deep
Confined Space Entry Completion Checklist
Are all personnel out of the confined space?
Are all blinds removed, using the blind list?
Are all equipment and tools removed?
Are all manways and flanges closed and sealed?
Has the atmosphere been purged?
Have start-up procedures been removed?
---